Born to a cacophony of jeers at Cannes, Antichrist blurs the line between the beatific and profane, forcing the audience to witness violence beneath the sensual.  Coiled around each other in rapturous fornication, He (Willem Defoe) and She (Charlotte Gainsbourg) fill a beautiful, monochrome screen that casts the feminine face in a shade of light gray before the camera cuts to the husband's penis thrusting forcefully into his wife.
While the film lives up to the sexually graphic hype, the primal scene is shot slow motion, so the jagged bodies move rather languidly through the writhing and thrusting, which casts the film is anti-erotic—and this tends to be the point.  The pleasure evoked by the fornicating couple is juxtaposed with brief glimpses of a child toddling through the house, gazing up on the parents as they transition their love making from bathroom shower to bedroom.  Seemingly oblivious to the child's presence, the couple continues as the little one meanders toward an open window.
This scene makes no attempt to shock us as Von Trier does not attempt to blind us to the inevitable; instead, between insinuated moans, and the end of a dryer cycle, the child pushes a chair to the kitchen table, climbs to the top and gazes through the window at the slow-falling snow.
Inevitably, the child tumbles out the window, shot slowly as if he were a gentle flake of snow, arms outstretched and a smile beaming, thus ending the monochrome prologue and venturing into the subsequent chapters of Grief, Pain, and Despair.
The major issue with Antichrist is that it is terribly mislabeled from the start. Beginning with the disclaimer "The following film contains extremely graphic violence and sexuality," the audience is set up for some venture into torture porn whereas the cringe-worthy scenes in the final act have a point and should not be paralleled to contemporary snuff that simply exists to shock.  Likewise, Von Trier's reputation as a misogynist precedes his effort in Antichrist and casts a pall over the film that clouds the sub-textual intention of the film—to explore the social construction of gender and its psychological ramifications.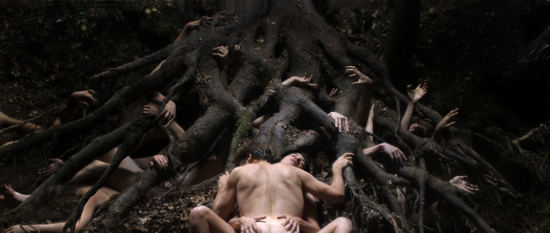 Chapter one, Grief, begins at the child's funeral where She faints during the procession and is soon after placed in a hospital for a month because of the paralyzing blame that she places on herself: "I was aware that he would…crawl out of bed" she tells her husband, who briefly asks "what about me?" before disassociating himself from the relationship by taking on his occupational role of therapist.  Essentially, His role of therapist overshadows his role as husband as he tells Her "Grief…it's not a disease. It's a natural, healthy reaction," and it seems the comfort that He provides comes from textbooks and not from any mutual emotion or bereavement over the loss of their son.  Invoking His profession—and asking that his wife not see another therapist, He places himself as an intellectual superior who has separated himself from the relationship, isolating She in a grief-vacuum.
In addition, it seems that He is rarely present in her life except for as an academic wraith.  "You've always been distant from me and Nick. Now that I come to think of it, very, very distant," She tells him before adding "terribly distant last summer…as a father as a husband."  The summer She refers to is when She was attempting to write a thesis, which He refers to as "glib," before defending his absence by stating, "what I understood is that you wanted to write alone."  Clearly, there has been a miscommunication, or misassumption between the married couple, but of dual interest is that we learn later on in the film that She was tasked with writing her thesis and monitoring Nick, which suggests that her academic endeavors were often subsidiary to being a mother, something that doesn't seem to affect the husband inasmuch as He already has a doctorate, and a seemingly successful practice.
I can understand the questions about Von Trier's intention here—is he suggesting that women can't do both successfully? Or is he exploring the gender roles which have been taken for granted.  The mother is the mother. The father is the father, but often these prescriptions obfuscate personal and intellectual desire.  As we learn in the second chapter, Pain, this internal conflict fosters resentment within the mother who passive aggressively, and consistently, would place Nick's shoes on the opposite feet, causing his feet to be slightly deformed.
Again, is Von Trier examining the evilness of women as has been suggested by a few critics?
I would suggest instead that Von Trier is again exploring how the roles are taken for granted.  While She intentionally puts the shoes on Nick's feet, and probably isn't ignorant to the discomfort she inflicts, the husband is absent and is completely unaware of the shoe-situation until He reads through Nick's autopsy report.  Is He absolved because we see him as the more stable of the two figures in the film?  Or should he be branded negligent and disconnected?
Of the parents, She seems much more afflicted by Nick's death.  The husband suggests that he is grieving, but the wife is plagued with crippling anxiety attacks and crying jags that rise at night, often to the point where She attempts to knock herself unconscious by banging her head against the toilet bowl.  Adding another layer of restrained desire to the wife, the only way She can quell her anxiety is through rough fornication—relying on momentary endorphin-laden pleasure to quell the pain of Nick's death.  While this might seem a bit crude and initially far-fetched, it establishes her as a sexual being, not merely a receptacle for the husband.
In combination with the absence of names to differentiate the genders, this mutual sexual desire creates a superficial parallel between the husband and wife, erasing the stereotypical husband as sexual being, mother as passive receiver stigma.
Assuming that his wife's desires merely mask the swelling grief underneath, He often refuses his wife's advances and relies on his academic training to find a way of helping her work through her anxiety by asking her to explore what incites her deepest fear.  Her answer is nature, which She refers to as "Satan's church," particularly the secluded cabin where She previously worked on her thesis.  To this cabin is where they venture after He condescends, "that's what fear is…your thoughts distort reality," which is rather ironic in that it is his imagining of his wife's innocence and inherently maternal nature that is truly distorted—while she was biologically a mother, it is in conflict with that which the husband does not recognize.
Soon after they arrive at the cabin, the wife becomes eerily acclimated, however He is a bit unsure that this turnaround is genuine, prompting the wife to observe, "you can't just be happy for me, can you?," which precedes the husband's suddenly disturbing interaction with nature, culminating with a self-disembowling fox asserting "chaos reigns."
While the spectacle of a talking fox, much less one whose entrails are pouring forth from its stomach, separates the viewer from what has seemingly been a tale of therapeutic self-discovery, it adequately illustrates the illusion of control that He insists on maintaining. So blinded by his education and presumed infallibility, the husband is unaware of the true inner conflict that his wife suffers from.  The plight of She is not merely the loss of a child, but the conflict between the variegated roles that She embodies as a woman.
Seemingly unfazed by the talking Fox, He narcissistically assumes the role of "nature" to try to eradicate the wife's fear—though He doesn't seem to notice that She is no longer running from nature; rather, she is embracing the chaotic, frenzied power of "nature that causes people to do evil things against one another," which also happens to be the same "kind of nature [that] was the subject of [her] thesis."
Titled Gynocide, the wife's thesis begins as a study of women who were branded as witches and eventually murdered because they deviated from socially constructed ideals.  As the thesis progresses, the pages become indecipherable as if they are written in tongues, which could correlate to the summer She spent with Nick in cabin while finishing her thesis.  If these two events correlate, then they further establish battle of conscience—one that asks her to quell personal desire to become the primary caregiver while also being asked to be a contributing member in a competitive world.
As He confronts She about the basis of her Gynocide (which he had previously referred to as "glib"), He similarly insinuates that her thesis is without merit inasmuch as "good and evil have nothing to do with therapy," which suggests that her project is not progressive; rather, its basis is groundless.  As He attacks her academic desires, which mirror her inner conflict, She has what appears to be a breakdown, unable to separate the chaos-seeking, biological animal, and the socially prescribed matron.  Stricken with paranoia, She accuses her husband of trying to leave her, which culminates in the striking of his erect penis with a piece of wood before boring a hole through his leg in order to bolt a grindstone through his calf to prevent him from leaving her.
As She disappears off screen, He regains consciousness, removes the grindstone and proceeds to find temporary shelter in a hole that has been dug into the side of a hill until a crow lets out a high-pitched caw and alerts She to her husband's presence.  After unburying her husband, she drags him back to the cabin while her husband asks, "are you going to kill me yet?" While the audience has surely been watching the woman spiral downhill and most probably suspects that this film has devolved to a shock-filled-horror film the truth is that his simple interrogative provides She with authoritative and decision-making power for the first time in the film.  And perhaps, this is Von Trier's point in Antichrist's denouement —will the audience initially see this as a power struggle where She has finally ascended to the summit of the hierarchy, or will She be branded a sadistic, crazy bitch, which simultaneously categorizes Von Trier as a misogynist?
While She may not appear fully lucid, the poem she recites while He lies limp on the ground, waiting for death, is rather revealing.  "False in legs, false in thighs;/ False in breasts, teeth, hair, and eyes" is from Robert Herrick's Upon Some Women, which was composed in the seventeenth century and is a poem that questions the superficial beauty of women— "scenes to cheat us neatly drawn"—while all intents and purposes are "inlaid garbage everywhere."
Instead of interpreting this recitation as a confession of evil, I feel it is more important to read this scene as exemplary of the conflict that has been injected in our social construction of gender.  In other words, if women throughout history have been seen as subsidiary to male dominance, then this poem simply represents ubiquitous propaganda that correlates with Juan Luis Vives' assertion that "a woman is a frail thing and of weak discretion, and that may lightly be deceived"—another widely read author and social critic of the sixteen century.
Essentially a poem of this sort would be used to quell a woman's sexual desire because proprietary women served as social currency between families. Their purpose was to propagate to secure patriarchal lineage and property.
Chaos reigns, and the scene of "graphic violence" that we were promised in the first thirty seconds of the movie isn't nearly as snuffy as it has been stigmatized. Rather, the self-performed clitorectomy appears juxtaposed in a monochrome flashback that reveals the wife's awareness of Nick climbing on the table and the danger of him falling out of the window while He and She are in the throes of passion.
I can't claim the close-up of the rusty sheers against soft flesh isn't cringe-worthy, but her amputation is the crescendo of the difficulties of modern social and gender construction.  By removing her source of sexual pleasure, she becomes what Herrick and Vives assume she should be: a sexless, progenetizing automaton—who repents for her momentary transgression.  This act doesn't make her a hero, and I wouldn't suggest that Von Trier is trying to make her one, but it makes her no less a villain than the absent husband who "is indifferent to whether [his] child is alive or dead."